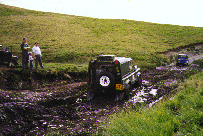 It was summer 1996, we had a buzz to get down to Wales again, so we gave Mike a ring (who is the GLASS representative for Gwynedd). He knows the area well and can take us to all the best places.
We met in Machynlleth, Mid Wales. The shops just opened as we completed the long drive down so we popped into a cafe, had a coffee, and studied the map and chose our route. First we headed due north and did the circular route through the forest, no problems there, just a touch muddy under foot ( I mean tyre ) but nothing compared with whats to come ..
We got on the long UCR that leads due south towards Nant-y-moch Reservoir. Its a fairly easy lane until you reach the large boggy area approaching Anglers Retreat, I was a bit dubious about getting through this so I skirted the edges. Mike felt a little more confident and thought he could get through.
Anglers Retreat and beyond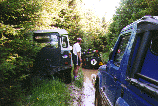 .. He was wrong [see photo top left], he got halfway across then he ground to a halt, he had no traction and had sunk - he wasn't going anywhere.
Luckily we were all equipped with winches, Mike hooked onto me and slowly but surely extracated himself. Eventually we all got through and continued until we reached the forest, it had been raining hard and the undulating lane was waterlogged causing deep water-filled trenches, unfortunately water and V8's don't go together and Mike came a cropper again [photo left], his engine cut-out and refused to restart until he'd sprayed the electrics with copious amounts of WD40
Several lanes later the sun was going down, time to make camp [photo right], put the tent up, get the fire going, stoves out and start making the curry ( well somebody's got to eat it ). Imagine the atmosphere .. once you've tried it you realise you can't beat it.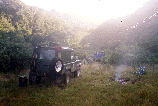 Next morning we were up early, and with good reason, we had a long run south to get onto the Strato Florida. We paused at the abbey [photo above] and did a spot of sight-seeing before starting out on this classic green lane. Getting onto this lane is why careful map reading pays off, its all to easy to miss the turn off in the forest.
When driving this road its difficult not to think about the monks from the abbey trekking along it hundreds of years ago. We have it easy nowadays with our 4x4's, especially traversing the many rivers that cross it.
Well we got to the end without too many drama's and soon we were heading up north towards home though I'll never forget the moment when Mikes progress was halted by the Highland cow that stood in front of him and would not move [photo right], it just wasn't Mike's day, but for the rest of us it was another brilliant couple of days 'laning in Wales.