A winters day on 'Highway'

It was February 2000 and after several continuous weekends with rain it was dry and we were raring to go, thats me, Ian and Neil. I was riding a Honda XLR 250 Baja, they were both on Kawasaki KLR 250's.
Our days laning started at Horton in Ribblesdale in the Yorkshire Dales, we headed due north up Langstrothdale Road which is a nice easy road with a good solid surface. We had only gone a couple of miles when Neils bike started coughing and spluttering - looked like muck in the carbs, we couldn't fix it without a carb-strip so we persevered and hoped ity wouldn't get worse (see right).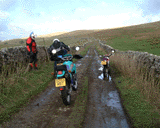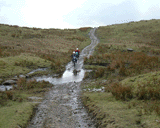 We took a shortcut on a previously researched road that took us onto Cam Road, another easy lane with a stoney surface - this a ratione tenurae road, its status not in doubt. There were still plenty of standing puddles from previous weeks rain (see left) but they presented us with few problems.
Once onto Cam High Road we turned south towards the viaduct, we driven this road many times before but didn't have time to ride the full northerly route - we were eager to get on to the Highway.
Cam High Road goes right through Gayle Beck at the southern end which can be quite daunting after a lot of rain, but on this occasion was reasonably shallow (see right - afterhaving ridden through the beck).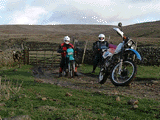 Next it was straight up north, past the Moorcock Inn and onto the B6259. We wanted to ride the Highway (also known as Lady Anne Cliffords Way) in a north-southerly direction so we finished up nearer to home.
The lane was quite wet and rutted, making it very tricky even on a trailbike, also partway along its length are two three foot gates making the lane unusable for 4x4'. The beauty of the Highway is the fact you are way up high with stunning views (see above). Further on we stopped for a rest at the bench called 'Eddies Seat' which is a memorial to the long time TRF member Eddie Wilkinson who sadly is no longer with us (see right). The southern section down to Cotter Riggs is incredibly steep and badly rutted and should not be attempted as an ascent - it is bad enough going down.
By now it was late and dark, so we set off for the long cold drive home. I think this is one to try again in the summer.