Cornwall
Lanes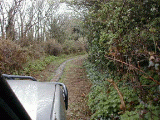 It's a long way to Cornwall; you fall off the end of the M5 at Exeter and it's still a long way - so is it worth it?
Cornwall is not an obvious choice for green laning. I think it happened because Mandy had been watching Wycliffe too much. In the last few years Mandy and I have driven green lanes in most parts of the country between Hadrians Wall and the South Downs but last time we were in Cornwall, 20 years ago, was with surf board, bright yellow kit car and, possibly, purple flares. The promise of good weather and accommodation just before Easter pointed us to a week exploring the byways of Cornwall - and I had a new set of Bridgestone Dueler MTs to play with. If we'd planned this more than 2 days in advance we might have been able to get a head start on green lane info. from the local GLASS rep but we didn't.
In fact we regard finding out for ourselves to be part of what green laning is about, even if it does mean that sometimes we miss some particularly interesting lanes.
At first sight the OS maps show that central Cornwall is full of BOATs (i.e. byways, as well as fishing vessels) and I also noticed the large number of buildings shown, which I assumed to be dilapi-dated barns, old tin mines, etc. The first day's laning was a bit of a disappointment - all the byways we drove were stone access tracks used by Mini, Reliant Robin, skateboard, etc. to get to the many cottages along the way. Others were well-used tracks to farms, quarries or lock-ups and many were tarmac or concrete; scruffy, unin-teresting and no sense of history despite the obvious industrial archaeology of the area. Mandy said it reminded her of Mansfield which summed it up pretty well.
Back to the OS map and reassess, looking for byways and UCRs with the longest gaps between buildings, with unfenced sections or steep gradients.
This was better and I got the chance to put the new tyres to the test on the first lane of the next day which was superb. The descent to the stream was straightforward enough and firm underneath a bit of mud but the tight dogleg onto a narrow bridge with unforgiving stone pillars was a tricky shuffling manoeuvre because the ground was very soft making precise steering difficult. Once across the bridge there was a fairly steep climb up the other side of the valley using a shallow, zig-zagging holloway. A 2m path had been recently cleared through the gorse, brambles and saplings but not always at the bottom of the holloway. This meant a climb and a varying sideslope, weaving around the trees that hadn't been cleared and the stumps of those that had. Speed was out of the question but the sideslope would have been enough to have my old worn Trackers clogged and spinning on the uphill side well before halfway. However, the Duelers were excellent, the Landy just walked up it at low revs without the slightest hesitation.
After this we found a great variety of lanes; the one thing they all had in common was that it was raining ….. hard ….. persistently …… all week ….. flowing down every track, lane and path. We like laning in the rain when we're in popular areas like the Lake District, Peak District or Cotswolds because it means the walkers and riders are all sitting in the cafes or trudging along the tarmac instead of cluttering up the byways, but this was too much of a good
thing.
Just outside Truro we started along yet another tatty stone access track but halfway along, careful navigation revealed the true route to divert from this track along a grassy way across the open common with open views over the …. Well actually it was too misty to see anything but we're sure it was a nice track.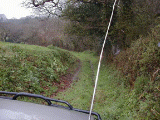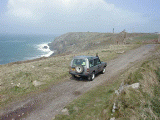 Onto the Roseland peninsular there was a UCR which started through a farmyard where a partially unloaded truck-cab 90 was blocking the way. We stopped and I walked through to check the line of the route and a way round (or driver of) the obstruction. When I got back Mandy said that the farmer had come out to see why we were parked there and expressed concern that we might have broken down.
Mandy had hesitantly suggested it might just possibly be some sort of right of way. 'It certainly is', he replied 'you can take a vehicle down there, it's a bit slippy but you'll be alright in that if you're
careful. I'm terribly sorry about parking in the way but no-one has used this track for years, I'll move it straight away.' If only they were all like that! It was a good track, part enclosed, part field-edge (unploughed), part grass, then holloway through pine forest and over a newly repaired culvert.
From here it was 2 miles of tarmac (more correctly, it would have been 2 miles of tarmac if I had not set off in the wrong direction) but an interesting 2 miles - unfenced forest road with lots of deer leaping across in front of us, up the hill to be faced with the sight of acres of daffodil fields and a rather curious private tarmac road far superior to the local public roads, which passed, crossed then went underneath the public road. I presume it was a way of getting the lorries full of daffodils onto the main road network.
Next another UCR took us through a farm and along the edge of a pasture - a bit softer this time but it was downhill; over the stream and gently uphill where shallow ruts pointed us to the gate and onto 100m of tarmac, past a rather beautiful ruined church and onto another stone track which must have panoramic views over the Tresillian River when the cloud lifts. We drove along a firm track, open on one side, driving a gaggle of pheasants along in front of us. At the end of the ridge the grassy track develops deeper ruts made by a tractor with a much wider track than our Discovery we were ploughing a furrow with the diff guard but it was too soft to be a problem. Then it was back onto the more frequently used farm track with traces of tarmac on the steep climb up to the road. A byway near Perranporth has the distinction of a cider farm shop/restaurant on it (which we recommend) but the track has nothing else to commend it - over a mile of straight, slightly pot-holed, wide stone access track.
Less than half a mile west of this is one that looks similar on the map but turned out to be a complete contrast; it starts from the north alongside deer enclosures then a sharp but shallow ford calls for balancing the approach angle with not getting cross-axled.
We got across at the first attempt but with a loud graunching noise which I took to be caused by nose-diving into the stone bank at the far side of the brook though there were no signs of contact so I put it down to the tyres hitting the wheel arches at the limit of suspension travel. Then it's a gently winding holloway up the hill on a stone surface.
Near Newquay we took a byway which, unlike most of Cornwall's rights of way, was unsigned but ran along a sandy track to a National Trust car park. We slightly overshot the point where the byway turned off the track just before the car park entrance. Rear visibility is never good in a Land Rover, especially in wet weather, and reversing back up to the place we should have turned, I put a wheel over the edge of a 20' drop and the vehicle started to slip sideways. Stamping on the brake held it still, then diff lock on, low 2nd engaged, full lock left and we gently pulled back onto the level, but only after a slight but heartstopping lurch of the back end further over the edge. From here the track is grass and bedrock, giving way to undulating sand though still as a clearly visible shallow cutting, past the large burial mound (and 'no vehicles' sign) and onto the village track.
Near St Just there's a cliff-top byway which is useable by any vehicle but does give spectacular views of the old tin mines, the waves breaking on the rocks and ….. the mist and rain. Nice place for lunch, but we eat it inside with the vehicle being buffeted by the gale - as Mandy said, not so much a Land Rover as a mobile conservatory. At one point the track splits for about 50m where one route skirts round on the level and the straight route drops into a hole and climbs steeply up the other side on loose stone.
It's enough to get the passengers reaching for the grab handles but as so often, the Discovery takes it very undramatically.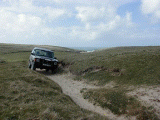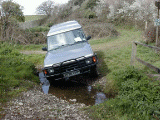 Finally, a byway which runs through a country estate near Camborne: it's signed at both ends and waymarked as byway status. As we drove through the entrance gate onto the tarmac path a pair of estate workers arrived with a miniature tractor and trailer which they parked 20m in front of us and started loading with rhododendron branches. I assumed the noises coming from under the hood of the waterproof jacket were some form of communication so I wound the window down a couple of inches and stopped alongside. It took a while to understand what was being said because: a) strong Cornish accent; b) noise of heavy rain on the roof; c) hood drawstring was pulled to tight to allow jaw movement. The gist of the conversation was familiar: 'you can't come down this way', 'it's a public byway', 'they don't drive down here', 'a byway is open to motor vehicles', 'where are you going?', 'through to the Leedstown road', 'but it's straight across some bloke's field'. .. at this point they resumed loading the trailer so I pulled off the tarmac to go round, ..'oi! We've spent all last week doing that grass', 'sorry, I didn't want to disturb your work by getting you to move out of the way.' .. glancing round at where we've driven there is a barely discernible line of flattened blades of grass. (sulky silence).
We drove on, wondering what crop would be blocking the 'straight across some bloke's field'. It turned out to be a well-used old stone track about a foot above the level of the field as successive ploughing had lowered either side. Getting to it was another matter; the tarmac path led us between the hall and the golf course but then turned away from the line of the byway. A stone surface was just visible between the rhododendrons so we pushed through and found a field gate. On undoing the chain the gate fell to the ground with a resounding crash; there were no hinges - it hadn't been touched for years as there was a stile for walkers to use. I carried it out of the way and got covered in green slime in doing so. By now the soured atmosphere of the estate workers had cleared and we enjoyed a grass track, then the stone one across the field to the ornate gates at the lodge and out of the estate.
The day we left for home was sunny and dry. We set off on a route to avoid the bank holiday weekend traffic and ignoring the 'road closed - local access only' signs enjoyed 10 miles of completely deserted good-class road. We came to the barricaded section of road but Mandy said it was no problem; 'left up the hill then there's a RUPP that leads back to the main road.' The first half mile was wide stone track then it suddenly stopped - turning round, disappointed, we noticed that what had seemed to be a thick hedge was actually 2 hedges with what had once been a track in between. I paddled down the route and returned with bleeding arms and wet feet - I wasn't dressed for laning! I decided it looked driveable: the
soft surface made it slippery but it had a firm foundation so there was no danger of getting bogged down. A couple of fallen trees and several substantial branches had to be cut but they were all soft and only a few minutes work with the bow saw. This and one or two other minor diversions meant that it was over 9 hours getting home but we agreed it had been a good week.
.. by David Goode, taken from 'Northern Greenlanes' magazine.